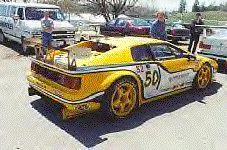 We continually need the help of new members to maintain a club that everyone is proud to be a part of. If you have any suggestions, would like to inquire about membership, or have information about locations where we may be able to secure Track Courses, Autocross Courses, Concours locations, or meeting venues, please e-mail us. The Florida Lotus Club is a non-profit organization.

At the present time, our membership consists mostly of Lotus enthusiasts, who live in the Palm Beach, Broward, and Dade County, Florida areas. However, part of our goal is to expand, with members who live outside of these areas. Presently, there are no membership dues.
Users of Macintosh, and UNIX operating systems, may not support all features of this website. If you cannot access other pages of this site, please e-mail us with any questions about events, etc.